OC of : Hilman Zafro
Grayson Lee
aka : Kumako

PERSONAL INFO

Name
Grayson Lee
Birthdate
Unknown
Gender
Male
Age
17
Height
175cm
Weight
unknown
Blood type
O+
Race
Human
Occupation
Student
Affiliation
Eclipse Academy
Class
Berserk




House of
Leonem
Marital Status
Single
Team
not provided yet

APPEARENCE

Hair colour
Half blond(R)

half black(L)

Eyes colour
Green
'
'

POWER

Fast-paced combos

WEAPON

Sword

FAMILY

unknown
'
'

OC OWNER

Hiru Masuyo

OC Status

ONLINE






Personality
Edit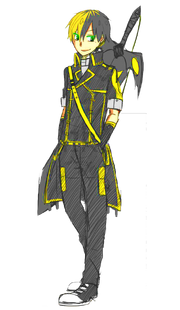 Prideful, can be a tsundere from time to time, acts mighty, but overall, he's a good guy.
Background
Edit
He gets his swordsman abilities from his late father. His mother is a sorceress and has passed away when Kumako was only 4 years old. Due to the high amount of respect to his father, he decided to continue his late father's legacy and became a swordsman.Even so, he has little knowledge what so ever in the arts
of swordsmenship and decided to apply to Eclipse Academy, where he can meet up with more swordsmen and perhaps learn more about it.